When I started out with my first SLR camera I lugged around a large, very awkward Canon bag. Now while it is great for holding a lot of gear it wasn't exactly pleasant having to bring my camera bag, my purse, and possibly a diaper bag. I hated carrying around multiple bags but throwing my camera in my purse just was NOT an option. I didn't want it getting damaged by the lack of padding. A bath towel or diapers just doesn't do the trick – trust me! I began researching some different companies and their bags, looking at their websites and reviews online. Eventually one company really stood out to me, and that was Epiphanie by Maile Wilson. These bags are just plain awesome with their bright, fun colors & design.
I have had my 'Lola' bag for a year now and I seriously adore it! Now I carry ONE bag that safely holds my gear. I can easily fit my Canon 6D Camera body with a lens attached, two additional lenses, speedlite, extra memory cards, and batteries. There are two exterior pockets which are great for my phone and keys. The padding inserts can be arranged or removed to best support the gear I am currently carrying. There is also a removable cross body strap that I wear while I'm shooting so I can keep my bag at my hip in each reach when I need to switch lenses.
Lola has traveled all over with me and the truth is that I cannot imagine carrying another bag! My only regret with the Lola was not getting a bag slightly larger that would hold an iPad or laptop. Though I do believe it could easily fit an iPad mini. Sooo…I might secretly be hinting and hoping for the Clover bag in Gray for Christmas! (So here's hoping maybe I'll have another review for you soon!)
Pictured: Epiphanie 'Lola' Bag, Canon XT (though I carry my Canon 6D), 18-55mm, 18-135, 85mm, 430ex ii Speedlite, Battery Charger, Battery Grip, Extra Batteries, Memory Card Holder, Extra Batteries.
Don't just take my word for it though, check out what Nicole from Nicole Crane Photography had to say about her Epiphanie bag!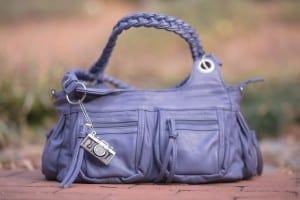 "No one can believe that my Stella bag is an actual camera bag. It's pretty cool because it looks like a regular handbag on the outside, but sort of has this secret photography life on the inside! It also has lots of zippered pockets, so I can stash my other camera accessories, wallet, keys, and phone, and I know that they will not fall out. Sometimes I even put diapers, wipes, and snacks in my bag, for my kids! 
And I absolutely love all the adjustable compartments! I can rearrange the inserts to fit all of my lenses. And the inserts are padded, so I don't worry about the lenses bumping against each other. 
One other bonus: The outside material is durable and resistant to water, so even if I am outside taking macro shots of flowers or something, I am not afraid to leave it on the ground beside me. It's functional and pretty, an awesome bag."
Epiphanie
Facebook | Instagram | Pinterest | Website
So now to celebrate a year with my dear Lola, we are giving one lucky winner any in-stock bag (ARV up to $229) of their choice from Epiphanie! How awesome is that? The winner will be posted here on the blog & contacted thru your email account connected to Facebook by December 10th. The winner will then have 48 hours to acknowledge that they won the prize. After I receive confirmation, they will be contacted by Epiphanie to arrange their order & shipment. The winner is responsible for shipping costs if they reside outside the United States.